Scientific Name
Cercis canadensis
Endangered Status
Least concern
Number of Recorded Individuals at the Zoo
24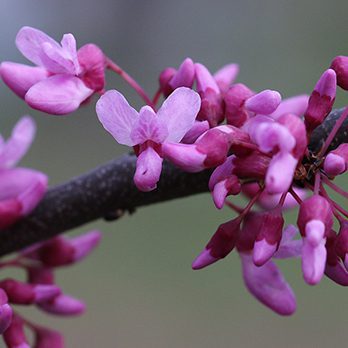 The eastern redbud is a multi-stemmed understory tree that grows best in average, well-drained soil in either full sun or partial shade. This tree is popular in the landscape and can stand alone as a specimen plant or in mass plantings, such as along the edge of wooded areas. Pink flowers cover the bare branches in the spring before the tree gains its iconic heart-shaped leaves. This species is a browse favorite for the animals at Lincoln Park Zoo. Bees utilize the redbud flower's pollen and nectar. Birds feast on the tree's legume-shaped seed pods, which turn from green to brown in the fall and persist through the winter.
Native Range
Eastern North America
Average Mature Height
20 feet
Flowering Months
April–May
Second Saturday Garden Tours
Join fellow nature lovers for a free, guided tour of Lincoln Park Zoo's diverse plant life and ecosystems. During each tour, a zoo horticulturist will point out interesting species in bloom, answer questions from guests, and discuss the horticulture program's past, present, and future.
In 2019, Lincoln Park Zoo earned Level II arboretum accreditation in recognition of the Horticulture staff's ongoing effort to identify, label, and monitor the more than 330 species of trees, shrubs, and woody plants represented across the 49-acre park.