Malott Family Zoo Intern Program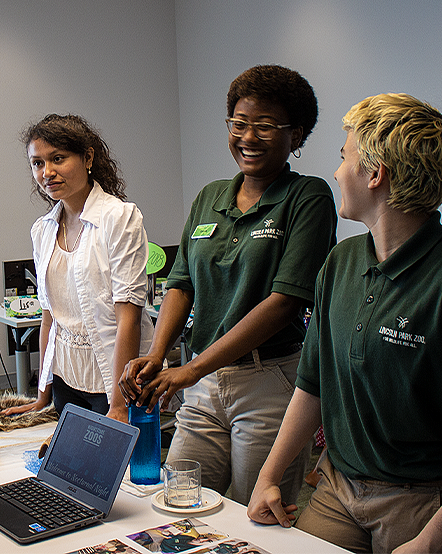 Overview
The Malott Family Zoo Intern Program provides Chicago high school students with the opportunity to learn about Lincoln Park Zoo while educating others about animal and conservation science. Interns will meet in person at the zoo for a seven-week paid program to investigate informal education techniques, consider how to communicate conservation messages to zoo guests, and create a culminating project. Interns also meet with researchers and Animal Care staff to learn more about potential careers in the animal science and conservation fields.
The deadline for summer 2023 applications has now passed. Check back in February 2024 to apply for next year.
Eligibility
To qualify, an applicant must:
Be a City of Chicago resident.
Be entering grades 10–12 or their freshman year of college in fall 2023.
*Be 15–18 years old by June 26, 2023.
Be legally allowed to work in the United States.
Have proof of identity and authorization to work in the U.S., in accordance with federal law.
*If hired, 15-year-old interns must obtain a student work permit. For more information, please contact your school or the Illinois Department of Labor.
Absences
Program participants must be available for all days of training, which takes place during the first two weeks of the program. Planned absences that do not occur during training, and which have been discussed with a supervisor, are possible. However, long absences (such as a week-long family vacation) may disqualify a candidate from the program, as an intern would miss too many events and activities.
Want To Learn More?
Adler Planetarium is hosting a virtual opportunity fair on February 11. At this event, teens can learn more about summer opportunities at Adler Planetarium, Lincoln Park Zoo, Peggy Notebaert Nature Museum, and more! Sign up here to attend this virtual event.
Lincoln Park Zoo is hosting an in-person job fair at the zoo on March 4 from 1–3 p.m. Attendees will learn more about internships, jobs and volunteering at the zoo. Learn more and sign up here.
If you plan on applying to any of the summer opportunities at Lincoln Park Zoo and are interested in learning more about how to submit a high-quality application, we are hosting two different application help sessions. These sessions will be held remotely over Zoom. Those sessions will be held on:

Monday, February 27, from 6–7 p.m.
Friday, March 17, from 1–2 p.m.

If you want to attend one of these virtual sessions, you can sign up for free here.
Further information sessions may be added throughout February and March. For the most updated list, or to invite a zoo educator to speak to your group, please email zooteens@lpzoo.org.
Will I work with animals?
No. Apprentices do not work directly with animals. However, projects will directly relate to animals and will involve activities such as observing animals in their natural and/or zoo habitats. Apprentices may also experience special opportunities, like behind-the-scenes tours and presentations from zoo professionals, to learn more about zoo career paths.
Will there be an interview?
In April, invited applicants will come to the zoo for a half-day group interview. You'll get to see animals, meet zoo staff, network with fellow applicants, and tell us why you're excited about this position.
Can I apply for multiple programs?
Yes! Applicants can apply to every program simultaneously. Please note: Eligibility requirements vary between programs.
How will I know if I've been accepted?
We will contact all applicants via email by Friday, April 7, whether or not they have been selected for an interview.
Do I need to know a lot about animals beforehand?
No! Training is provided at the beginning of the program to introduce apprentices to the zoo and zoo animals.
What do I need to participate?
Because the Research Apprenticeship Program will be in-person this summer, participants will need a reliable way to reach the zoo each day.
COVID-19 vaccinations are required for all zoo staff and volunteers, including teen interns. If you are selected for the program, proof of vaccination must be provided before May 22 in order to participate.
Questions?
To learn more about the Malott Family Zoo Intern Program, please email zooteens@lpzoo.org.