Scientific Name
Hydrangea arborescens 'NCHA7'
Number of Recorded Individuals at the Zoo
60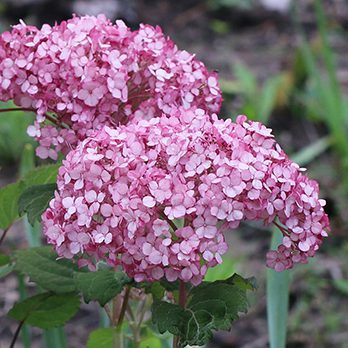 Mini Mauvette® smooth hydrangea, a selection of the species native to Illinois, is a dwarf cultivar with deep pink flowers that bloom in early summer. Its flowers persist through the winter on strong, sturdy stems that provide cover for wildlife. This shrub cultivar prefers average, well-drained soil in full sun to partial shade and is often grown as an accent plant or planted in large groups.
Native Range
From cultivation; species native to eastern United States
Average Mature Height
3 feet
Flowering Months
July–September
Supports
Bees and small mammals
Second Saturday Garden Tours
Join fellow nature lovers for a free, guided tour of Lincoln Park Zoo's diverse plant life and ecosystems. During each tour, a zoo horticulturist will point out interesting species in bloom, answer questions from guests, and discuss the horticulture program's past, present, and future.
In 2019, Lincoln Park Zoo earned Level II arboretum accreditation in recognition of the Horticulture staff's ongoing effort to identify, label, and monitor the more than 330 species of trees, shrubs, and woody plants represented across the 49-acre park.